If you do not see what you are looking for please contact us and we can help you find what you are looking for.
Archie For Sale or Lease SOLD!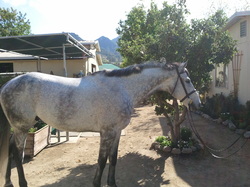 2004 16.3 hand grey Thoroughbred gelding for sale.
Archie is a super sweet guy with alot going for him. He has a great rythem, is super willing and has a great jump. With his scope and athleticism he could go any direction. He is currently schooling 3'-3'3" and has the potential for much more.He is not spooky and has a desire to please his rider.
---